Or the equivalent at least. After watching the new Season Premiere of
Mad Men on AMC
 last Sunday, I became totally entranced by this sexy little number! Mad Men shows so many aspects of the sixties from the inspiring wardrobe and styling, to the very real issues of civil rights and power struggles in this male-dominated era. That's why it's so empowering to watch a beautiful woman take the stage and blow everyone away with such confidence and sexual liberation in this song and dance! I love how much fun she's having and how carefree she is. It's just as much for her, to exude her power in sexuality, as it is a gift for him. When you do a Pin-Up or Boudoir photo session, it's also for yourself (if not more) than for anyone else, and you should have fun becoming the gorgeous, empowering sex kitten you are meant to be (at least sometimes!) while exuding confidence too! It's about letting go of everything and just going with it.
As women, we are amazing creatures who play so many roles in life: Mothers, wives, partners, lovers, businesswomen, students, teachers, caretakers. In one of my favorite novels, 'Dandelion Wine' by Ray Bradbury, there is a quote, "Life is a play, don't I play it well?" I think we are good at playing multiple roles well, however sometimes we need to have a little fun doing them! So let this little video inspire you to strut around a little and show your stuff! I know you can! I'm looking forward to watching the rest of the new season and sharing more Mad Men inspiration with you! Please feel free to share your thoughts
xoxo Kelly
What do you get when you take two Hot Vintage Kittens and mix them together with RINGS OF FIRE and a twist of Burlesque? That's right…. Ticktoxic is the answer. Watch this pair of talented PIN-UP Sweethearts light up with flames and mesmerize you with their innovative hula gyration skills. You don't see acts like this everyday!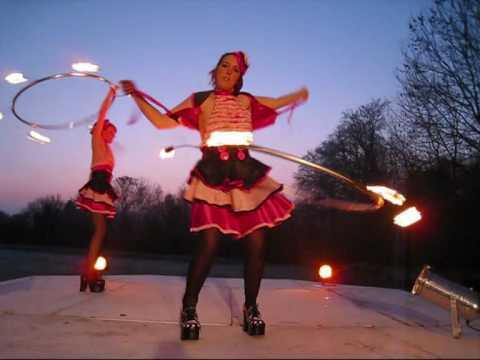 Look for an upcoming interview on PIN-UP TALK in the very near future.