Burlesque comes in many different flavors and styles. One of those styles that I really enjoy watching is the artistry of the Aerialist Burlesque Performer. This type of burlesque takes a tremendous amount of discipline, flexibility and control. The video featured below is of Aerialist Burlesque Performer Sadie Hawkins performing at the Eyedrum, in Atlanta, GA. Backed by a live acoustic quartet, in the midst of the crowd with all eyes locked and loaded, Sadie delivers an extremely sexy and deliciously haunting performance that infuses sensuality and desire in the air.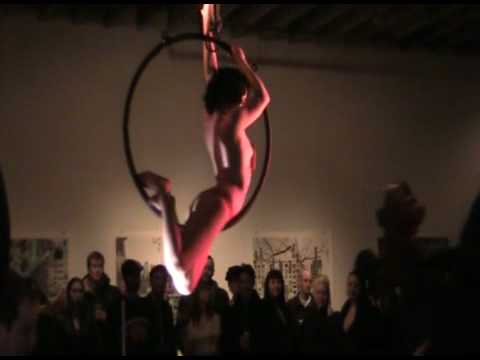 Look for an upcoming interview on PIN-UP TALK in the very near future.
I'd like to introduce the lovely, sensual, PIN-UP VIXEN…  MONICA LOREN. She is a newcomer in the biz and is flaunting her style with a vivid pizazz. Creative and outgoing… Monica is on the move and is taking no prisoners. Her interesting blend of classic vintage infused with an Edgy Fetish Twist results in visual treats full of color, attitude and sexiness. She has a very unique look that draws you directly in to her bewildering eyes and full luscious lips followed by the rest of her smokin' assets. Check out the interview to see what this sexy vixen shares and reveals to the world!
"Welcome to the show my friends"… That's what modern day burlesque performer RED HERRING is all about… The Show. She is indeed what she proclaims herself to be, which is "A Professional Distraction".  There's something about this fiery redhead from Canada that burns through  to the core of your mind desiring more of her tease.  Playful, suggestive, animated, sexy, sensual and turbulently exciting, the Red Herring encases a sweet innocence  paired with a deviant little twinkle. A combination of traits that would start a blazing fire within your soul almost instantaneously. If you have the opportunity to see her show live in person, do it!
Look for an upcoming interview on PIN-UP TALK in the very near future.